Where are Hearing Loop Systems installed?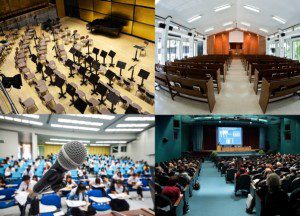 Hearing Loops can be installed in any room of a home or in public venues such as churches, classrooms, theaters, college auditoriums, music venues, just about any place where large or small groups gather.
It is important that loop systems be installed by a certified professional to make sure it meets standards and can be tested to ensure good field strength and user satisfaction. Hearing Loop Systems don't exist in a carton or on a warehouse shelf; but only when carefully designed, installed and certified for proper operation.
Additional areas that the Hearing Loop System can be installed include:
Sports Facilities, Gymnasiums, Stadiums
Court rooms and Government chambers
Banquet Facilities
Board rooms and meeting rooms
Church Sanctuaries and Worship Centers
High Schools and College Auditoriums
Theatre and Performing Arts Facilities
Museum exhibits
Cars, buses, coaches, trams, trains, airplanes, cruise ships
Elevators, lifts
Public areas in airports, railways stations, subways, shopping malls
Reception desks and information kiosks
Point of sale locations such as ticket counters and check outs
Drive-thru and pick-up windows such as those found at restaurants, pharmacies and banks.
A number of individuals have also looped their cars.  They have wired both a dashboard microphone and radio output through an under-the-seat amplifier and out to wiring that surrounds passengers.  The result is improved clarity of conversation for the hard of hearing, while still enabling them to hear sirens and horns, which are picked up by the microphone.