System Design and Training
Hearing Loop Systems don't exist in a carton or on a warehouse shelf; but only when carefully designed, installed and certified for proper operation.
Inland Empire Audio can support you with design, consultation, installation, and training to ensure that the best quality solution is delivered to meet the needs of your particular application.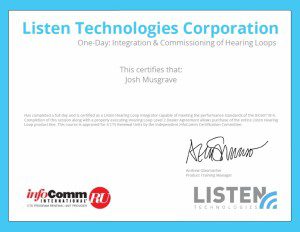 Josh Musgrave is the Owner of Inland Audio Hearing Loop.  He is certified and licensed to install your custom hearing loop system.  It is his job as the designer of your system to meet with you at your home or business facility and get all the particulars that are required to design the system that meets your specific requirements.
Once your system is designed and installed, he will give you extensive training on how the system works and how you may want to conduct testing of your system from time to time or to make minor adjustments.  The system is a very simple design and does not require lots of maintenance, but it is important to know how to make minor adjustments and conduct tests when needed.
We install hearing loop systems for all types of residential, or commercial businesses, including government agencies, court rooms,church sanctuaries, banquets facilities, museums, sports facilities, gymnasiums, stadiums, corporate facilities.
What ever your needs are give us a call or send us an email for a custom quote.
Josh Musgrave, Owner
Inland Audio Hearing Loop
Level Two (2) Certified Specialist,
Listen Technologies
Phone:  619-865-7206
[contact-form to='info@inlandaudio.com' subject='Request for information ~ Hearing Loop'][contact-field label='Name' type='name' required='1'/][contact-field label='Email' type='email' required='1'/][contact-field label='Your Phone' type='text' required='1'/][contact-field label='Comment' type='textarea' required='1'/][/contact-form]